About Tony and Chris Alford
Renaming the School of Ministry out of profound appreciation for their generous contributions toward enhanced innovation and broader influence, the Trustees of Carolina University voted unanimously on September 17, 2013 to name the School of Ministry in honor of Mr. and Mrs. Tony Alford.
Tony and Chris Alford both grew up in Spirit-filled Christian homes with Godly parents that love and serve the Lord. Tony and Chris met at Liberty University where they studied business marketing and administration. They were married in Lynchburg, Virginia by Dr. Jerry Falwell. They have been married for over 30 years and take each day as a gift from God to be together.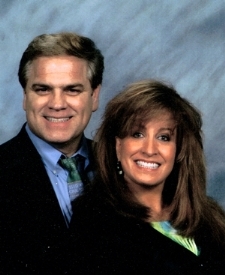 After leaving Liberty University they started a business consulting firm specializing in corporate tax recovery services. They have been entrepreneurs all their married life and have been job creators by starting and investing in multiple businesses. On January 21, 2011 they were honored to be part of ringing the closing bell at the New York Stock Exchange on Wall Street. They wrote a gospel tract about the Wall Street experience and how we will all have a "closing bell" in our future. But, by the saving grace of the Lord Jesus Christ we can have eternal life with Him.
Tony and Chris believe that when God raises up preachers, evangelists and missionaries to lead great movements of the gospel, God also raises up Gospel Patrons to come alongside those leaders as partners in the work. As a result, the Tony & Chris Alford Foundation has given away hundreds of thousands of dollars to support Christian ministries and missionaries.
The Alford's have two sons, Luke and Chad, and have experienced as a family "great God movements" in mission work around the world. Chris has spoken at many ladies' seminars on the power of God through prayer and fasting. She has been able to share first hand experiences that have grown the Alfords' faith in seeing God's work, provision, and direction. On their latest mission trip to India, the Alfords visited orphanages, leper colonies, and sponsored crusades where more than 3,000 came to know the Lord personally. Tony also received an honorary Doctor of Divinity from the Emmanuel Theological Seminary there in India. Tony is a Deacon and Sunday School teacher at their local church and serves on the local for-profit Board of Advisors for Wells Fargo Bank. Tony and Chris both currently serve on numerous nonprofit ministry boards. Their goal is to be servants of God and their genuine desire is to make each day count for His glory.
Tony & Chris want to inspire others to be Gospel Patrons. They believe that God will call upon his people to both give and to serve. "There are many Christian ministries that need financial support for God's Word to get out and for Gods work to be done. Proclaiming the gospel is the job of every Christian; no one else will do it and no one else will fund it."
The harvest truly is great, but the labourers are few: pray ye therefore the Lord of the harvest, that he would send forth labourers into his harvest -Luke 2:10.